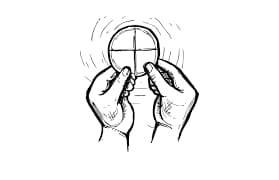 No. 3 HOLY EUCHARIST
Every day, Jesus turns bread and wine into His Body and Blood during the Holy Mass. This happens at the moment called the Consecration. This way we can eat and receive Him in our soul.
Jesus instituted this Sacrament during the Last Supper with the twelve apostles. This sacrament has a bonus: it forgives venial sins and fortifies us against committing mortal ones in the future. It's Jesus Himself who is within us.